Free Decision Tree Flow Chart PowerPoint Template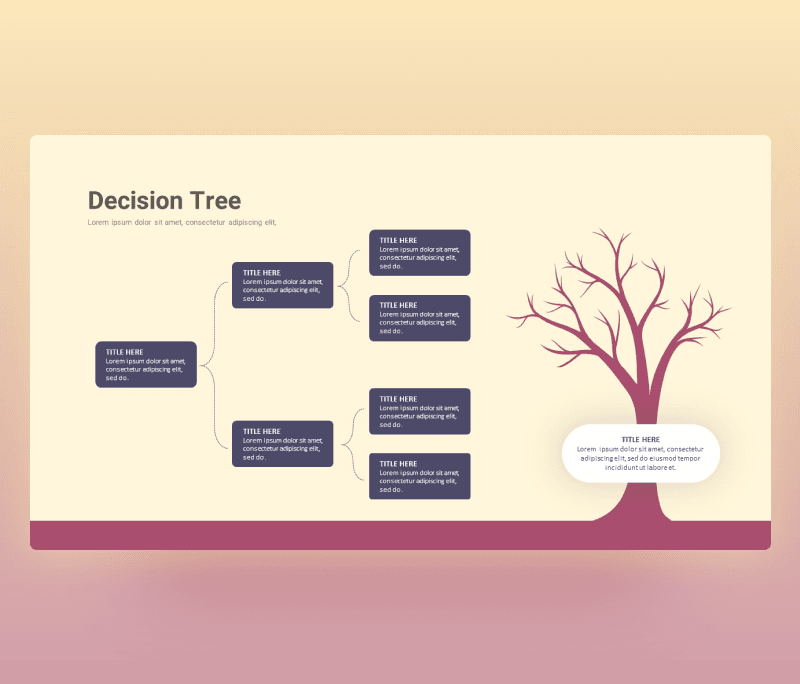 Free Decision Tree Flow Chart PowerPoint Template modern and unique for who seeks different visuals and wants to stand out. PowerPoint decision tree diagram mapping out the possible outcomes of a bunch of related choices. It allows you, your team, or an organization to check possible options against one another based on their best benefits. This template can be used either to figure out an informal discussion or to map out another that predicts mathematically the best choice. You can always start with the main node. Drawing boxes to represent each point, then draw a line from this node to reach all the possible solutions or prober actions take.
A Free Decision Tree Flow Chart PowerPoint Template is designed in a colorful theme with a tree on the right side to give the viewer the feel of the tangled tree decisions. Starting with a box representing the main node and expanding to new branches with smaller boxes.
This problem tree analysis slide is fully editable and you can totally customize it to fit your needs and style. A PowerPoint design can be included in different documents and reports. Change the outlay to serve your problem and your possibilities. Download this modern and creative tree diagram template and solve out your problem.
Want Custom Designs?
Get your presentation custom designed by us, starting at just $5 per slide, based on this template or any other style needed
Request for $5