Porter's Five Forces Analysis PowerPoint Template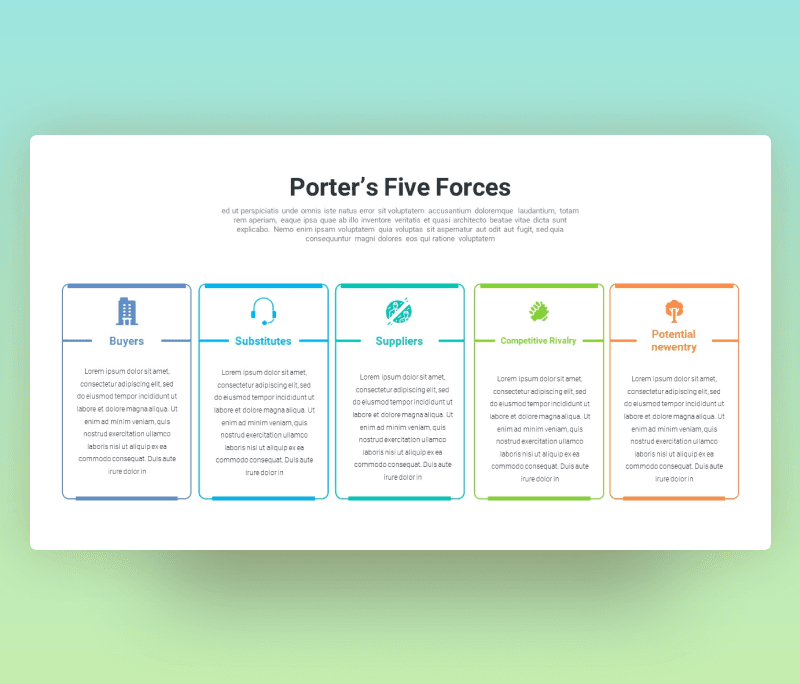 Another Porter's Five Forces Analysis PowerPoint Template is here,  so now on Why to use Porter's five forces?
The answer is when opportunities and forces in your business environment or industry are clear it affects your profitability in the needed direction, it will enable you to plan your strategy according to the real situations ahead of you. For example, you can use a strong point for your sake or improve a weak one, and make you sure to be awake for the possible wrong steps in the future.
And now before looking into how to use our Premast porter's five forces model PowerPoint template, what are the component of porter five forces:
Competition: It's about your competitors? how many are they? their strengths and weaknesses and etc.
Suppliers: How many are they? how potentially they can increase their prices? what kind of supplies you need and how it affects your service or product.
Buyers: how many buyers are there and how big their orders are? how they will affect your price and etc.
Substitution: This is about what else can fulfil your customers need besides your product or service
New Entry: last but not least what is your position and what about new entries who decided to have a share in the market.
This porter's five forces model ppt is totally editable, you can edit it around to have a whole new design. In this template, we put out as a table where the five forces are spread across the slide. You can use this slide multiple times and edit it to fit your style. Download Porter's Five Forces Analysis PowerPoint Template for free now
Want Custom Designs?
Get your presentation custom designed by us, starting at just $5 per slide, based on this template or any other style needed
Request for $5