5 Steps Gear Infographic PPT Template for PowerPoint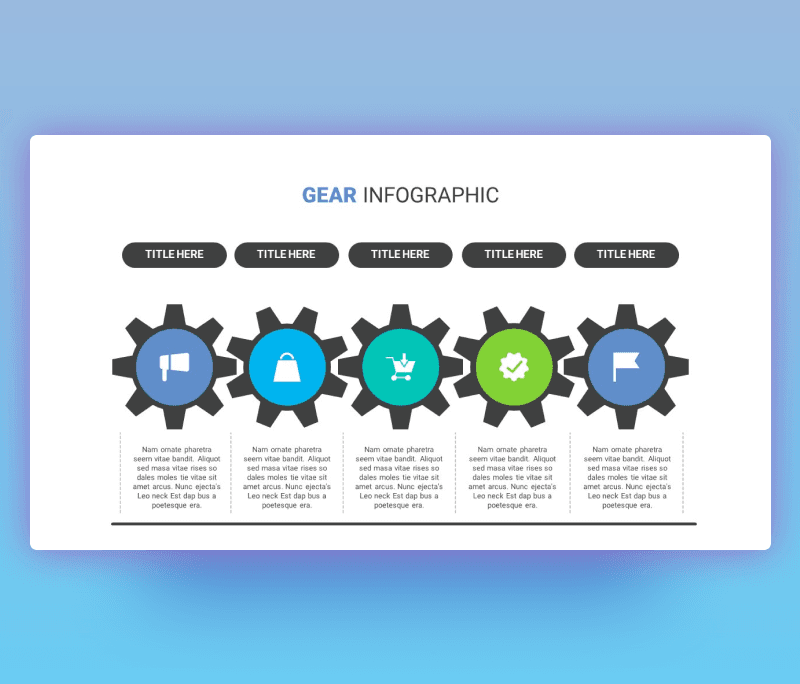 5 Steps Gear Infographic PPT Template designed for everyone looking to organize their content to deliver it straight. Unique designs that can be used for multiple situations and in many forms. This Gear Infographic can be used to present a process, types of something, or any relevant variables. The user of this slide has the opportunity to go creative and create standout content. You can insert it in your presentation or create a handout to share it with others.
This 5 Steps Gear Infographic PPT Template as seen is designed in a modern and static way that inspires you to put something incredible together. It's a layout that consists of the main title and five gears shaps. Each gear represents a stage or a variable in general. There are spaces designed for titles and notes or descriptions. Just insert your content and here you go.
You can fully customize and edit this 5 options infographic diagram to exactly fit your needs and thoughts. Starting with assuring that you can change the colors theme and replace it with your brand colors. Pick another font if you prefer and control how your text will look like and where to place it. Finally, all elements and icons are adjustable to fit your style and content.
Want Custom Designs?
Get your presentation custom designed by us, starting at just $5 per slide, based on this template or any other style needed
Request for $5