Modern Porter's Five Forces PowerPoint template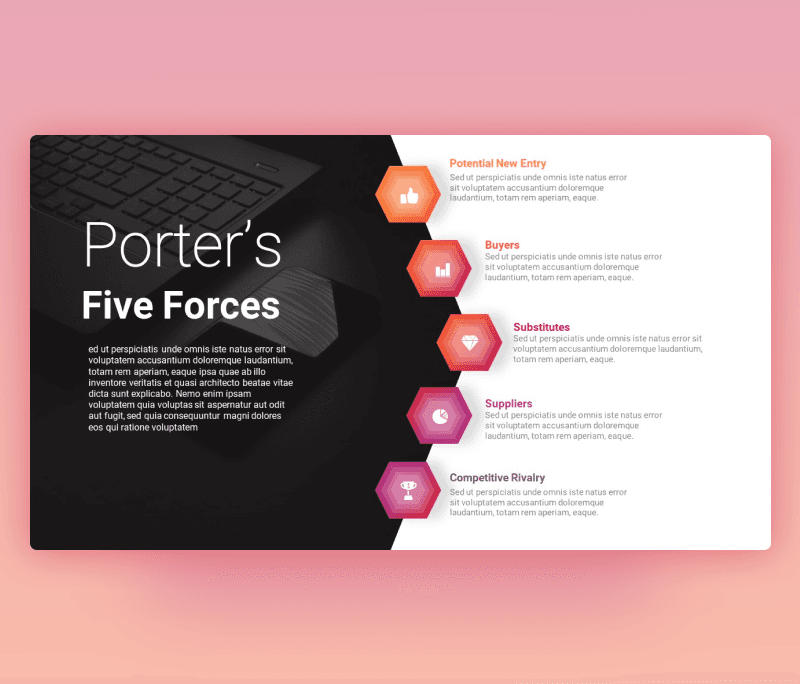 Porter's Five Forces PowerPoint template designed in a modern perspective with vivid colors to catch the eyes of the readers. But first What is porter's five forces? simply Porter's five forces are certain analyses with a powerful impact that helps you to understand the competition around your business, the environment of your field, and how to identify your potential growth strategy with profitability in mind.
In this Porter's Five Forces PowerPoint slide you will find two sections designed to make a statement at the beginning of your documentation. The black darker part is for stating the definition of Porter's Five Forces or what do they represent to your company and business. A bold big title can be included with a couple of small lines, use it thoughtfully. Then the second part the lighter and colorful one is for mentioning the five forces potential new entries, Buyers, Substitutes, Suppliers, Competitive rivalry.
You can use this slide for introduction or demonstrating the Porter's Five Forces concept to an audience. The great thing about this Michael porter 5 forces model ppt is it is fully customizable to serve your needs and express your style. Different color themes are available to choose from, you can totally find your style. Icons are vector so you can edit each element of them or even change them and use other icons that demonstrate your work more. A long list of fonts that you can ty around until you find your favorite, but always remember to come up with a style that fit your brand guidelines. You can also edit all the elements and use it for different topics and purposes. Own this Porter's Five Forces PowerPoint slide now and use it however you like.
check more Porter's Five Forces PPT templates
Want Custom Designs?
Get your presentation custom designed by us, starting at just $5 per slide, based on this template or any other style needed
Request for $5