Root Cause Analysis Fishbone Diagram PPT Template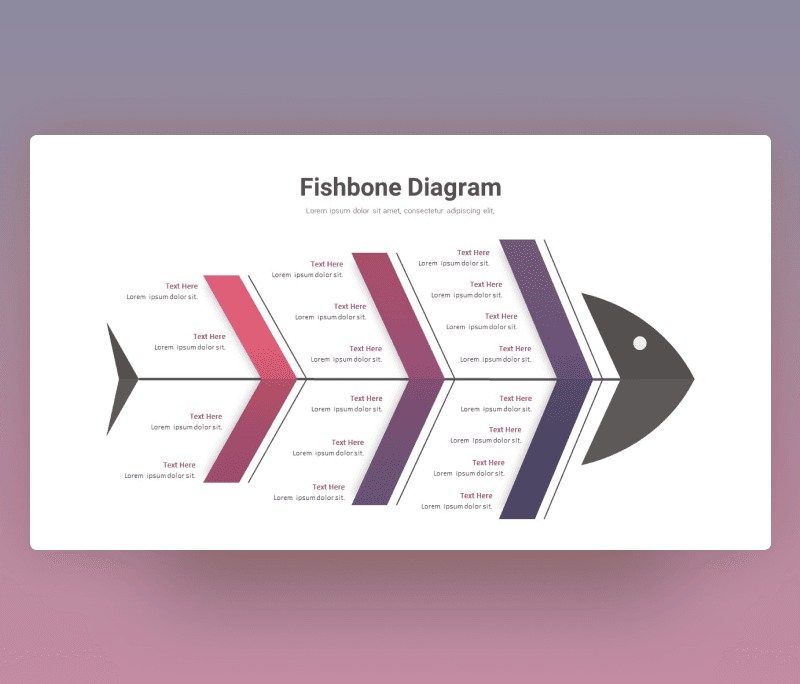 The root cause analysis fishbone diagram ppt template is ready for you to download and add it to visual sets. A PowerPoint slide works as a visual tool that demonstrates the analysis results for you and your team. A team can use cause and effect PowerPoint template to search and explore the possibilities that some causes may affect certain issues. The user of this fishbone diagram template PowerPoint blank can find answers for problems in an effective and fast way. Starting with exploring ideas, organizing them into groups to be able to understand the root causes of this problem. A root cause analysis PowerPoint is useful when you have a lack of quantitative data, You can totally rely on the experiences of the team members working on it. A fishbone diagram ppt professional and practical.
A minimalist lightly colored that focuses on a fishbone analysis. It is colored in the shades of purple. A simple design of a fishbone skeleton demonstrates the causes of any issue along with the design. Edit it around, change the color and the font if needed, and make it a whole new outcome. With this, the root cause analysis fishbone diagram ppt template you will have creative design.
Want Custom Designs?
Get your presentation custom designed by us, starting at just $5 per slide, based on this template or any other style needed
Request for $5