Minimal Fishbone Diagram Template for PowerPoint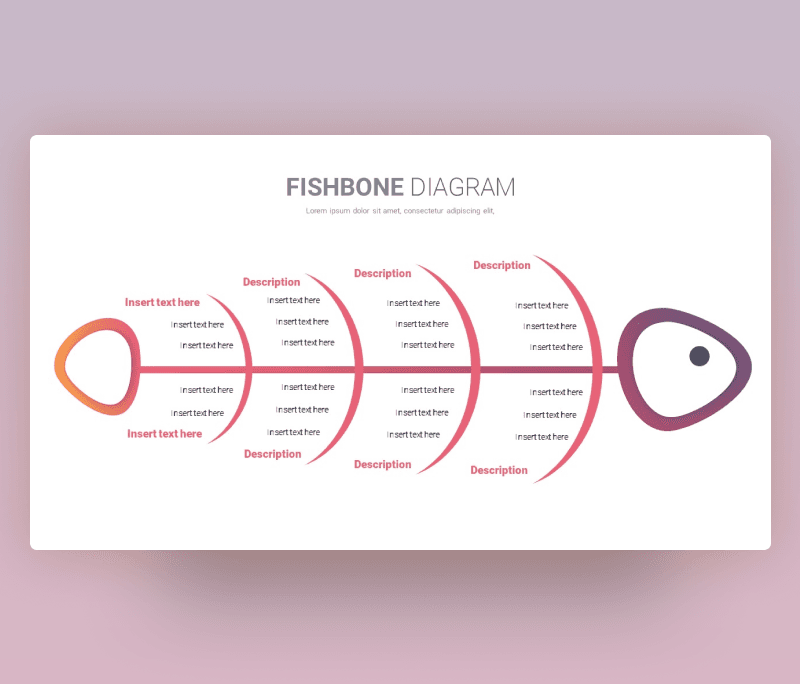 Have you ever asked your self What is fishbone diagram? Simply The Fishbone diagram or Ishikawa diagram is a diagram that focus on the causes and the effects which help managers of businesses to track the reasons that may lead to imperfections, defects, or failures.
To put it in simple words, this how you use a fishbone diagram template. As it's obvious This diagram shape is a fish's skeleton, Adding the problem "state" at the head of the fish and adding the causes for the problem spreader through the spine. When all the possible causes that lead to the problem have been acknowledged and identified, The user of the fishbone diagram can start looking into it for solutions and possible opportunities to solve different areas of the problem and make sure it doesn't become a stable nail in your business.
We at Premast have designed a Minimal Fishbone Diagram Template for PowerPoint users. As modern PPT users are focus on a professional feel of design. the design is so simple with no type of any complicated design techniques. This minimal design helps you to focus on the problem, it causes and how to solve it. You can add this simple fishbone ppt slide to your ready-made PowerPoint template or any other documentation.
A great way of communicating with your team is using the right visuals, a fishbone ppt template help you share a rational process with your team. Such a simple design with a great idea lead to a logical conclusion at the end.
Minimal Fishbone Diagram Template for PowerPoint from Premast using manual is simple. This ppt slide is fully customized, you can fully edit the design. Icons, fonts and more can be adjusted so they fit your needs and style. You can pick another color theme from our color palette. Download this fishbone PowerPoint slide for free now.
also, check more PowerPoint fishbone diagram from here
Want Custom Designs?
Get your presentation custom designed by us, starting at just $5 per slide, based on this template or any other style needed
Request for $5