Market Growth Infographic PPT Template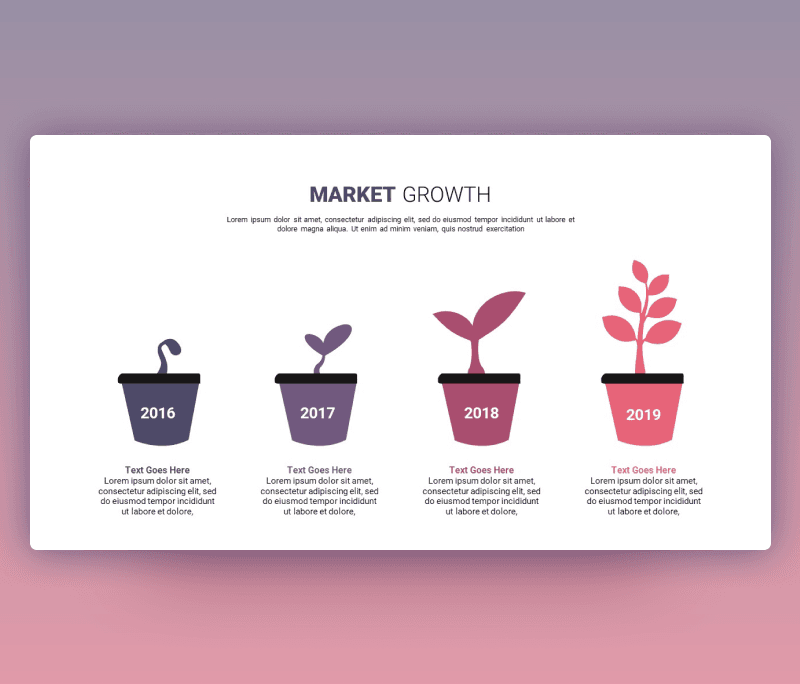 Market Growth infographic ppt template design for presentation creators that needs outstanding visuals.
A design that is modern, unique, and creative to represent the stages of growing your business, project, company or etc. Sharing your growth journey needs the right visual so you can deliver your information correctly. Such a slide can be added to a market analysis PowerPoint presentation that you are planning to share with an interested party, reporting, analysis, or even discussing market-related topics that need a visual aid.
This Market Growth infographic ppt template is considered a timeline that shows how much you have grown each year. In this ppt slide, we start with a plant pot with a small growing plant on it on the year of 2016. Then 2017 and 2018 reaching the last growing plant pot of the year 2019. You can use this business growth slide for different years, quarters, months, weeks, and even days. You can totally control the timeline to fit the length of your journey.
This market analysis template ppt is fully editable, you can change pretty much everything about it to fit your needs and style. Starting with inserting the text, changing the colors, picking another font, and resize the icons. Download it now and check out our recent templates.
Want Custom Designs?
Get your presentation custom designed by us, starting at just $5 per slide, based on this template or any other style needed
Request for $5