HealthScape - Healthy Food & Diet Presentation Template.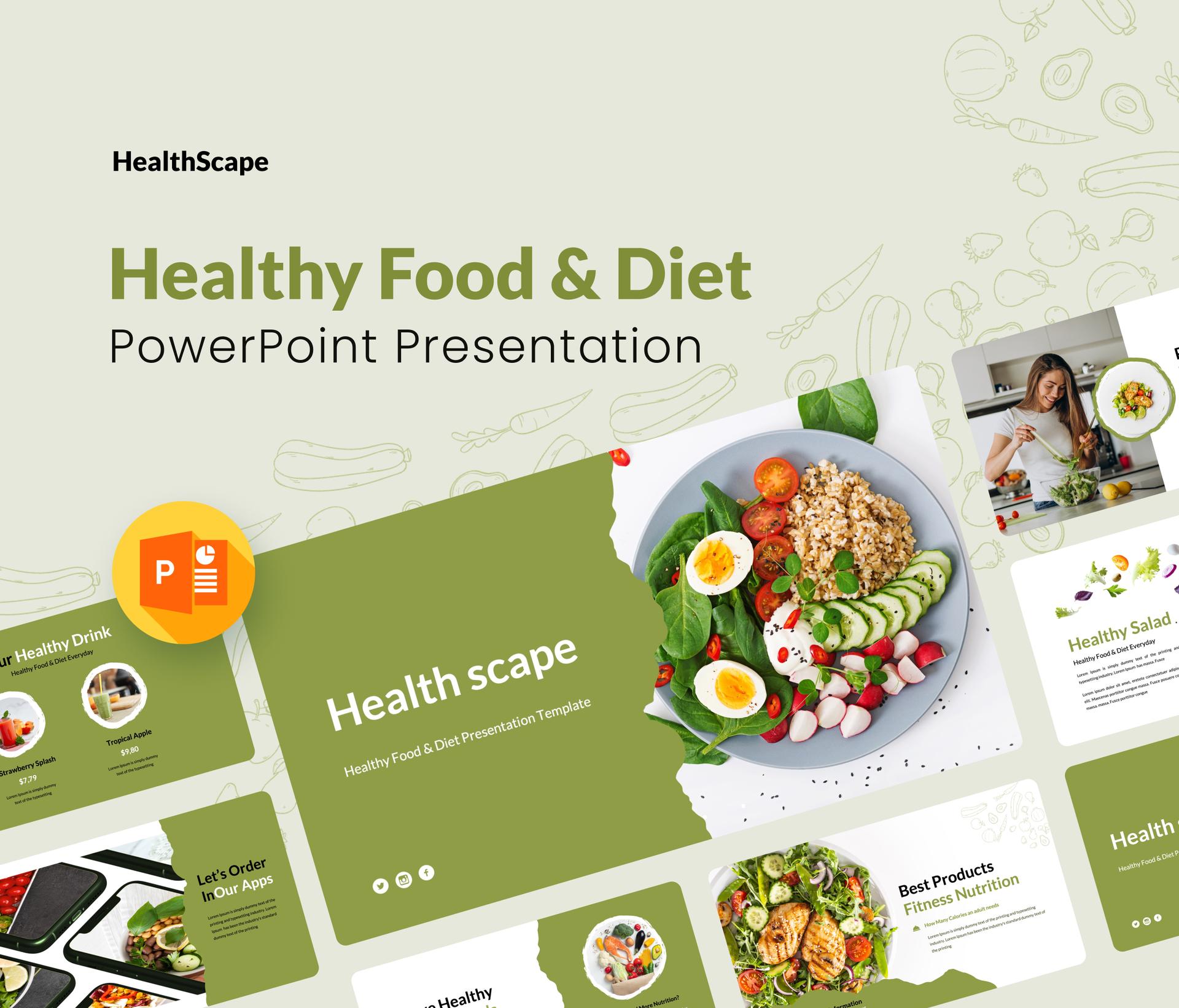 Health scape – Healthy Food & Diet Presentation Template is your ultimate tool for captivating your audience and inspiring them to embrace a healthy lifestyle!  This template is the perfect solution for anyone looking to deliver impactful presentations on nutrition, wellness, and the importance of a balanced diet. Whether you're a nutritionist, health coach, fitness expert, or educator, this Healthy Food & Diet Presentation Template is a game-changer. It provides a compelling visual aid to help you educate, inspire, and motivate your audience to make healthier choices. By purchasing this template, you're not only investing in a powerful tool but also in the well-being of those you engage with.
It is packed with valuable content to help you deliver an informative and persuasive presentation. With a wide range of pre-designed slides, you'll find everything you need to convey the benefits of healthy eating, provide practical tips, and showcase the latest scientific research. From nutrient profiles and portion control to meal planning and mindful eating, this template covers it all, making your job as a presenter effortless.
It's fully editable so you can seamlessly incorporate your own images, charts, and data, ensuring that your presentation is personalized and impactful. Don't miss out on the opportunity to captivate your audience and drive positive change. Get the Healthy Food & Diet Presentation Template today and take your presentations to the next level.
Example of included content:
About Us slides.
Our Healthy Mission.
Our program vision.
Nutrition plan.
CEO.
Meet our expert team.
Best products fitness nutrition.
Tips to healthy.
Break Slide.
Swot Analysis.
Testimonial from customers.
Mockups.
Contact us.
Thank you.
Features:
30unique slides.
Dark and light background.
16:9 aspect ratio (HD screen).
Based on the master layout.
10 premade color
light and dark backgrounds
all elements are fully editable.
easy drag and drop image.
free fonts file used.
fast and free support
Want Custom Designs?
Get your presentation custom designed by us, starting at just $5 per slide, based on this template or any other style needed
Request for $5