Horizontal Decision Tree for PowerPoint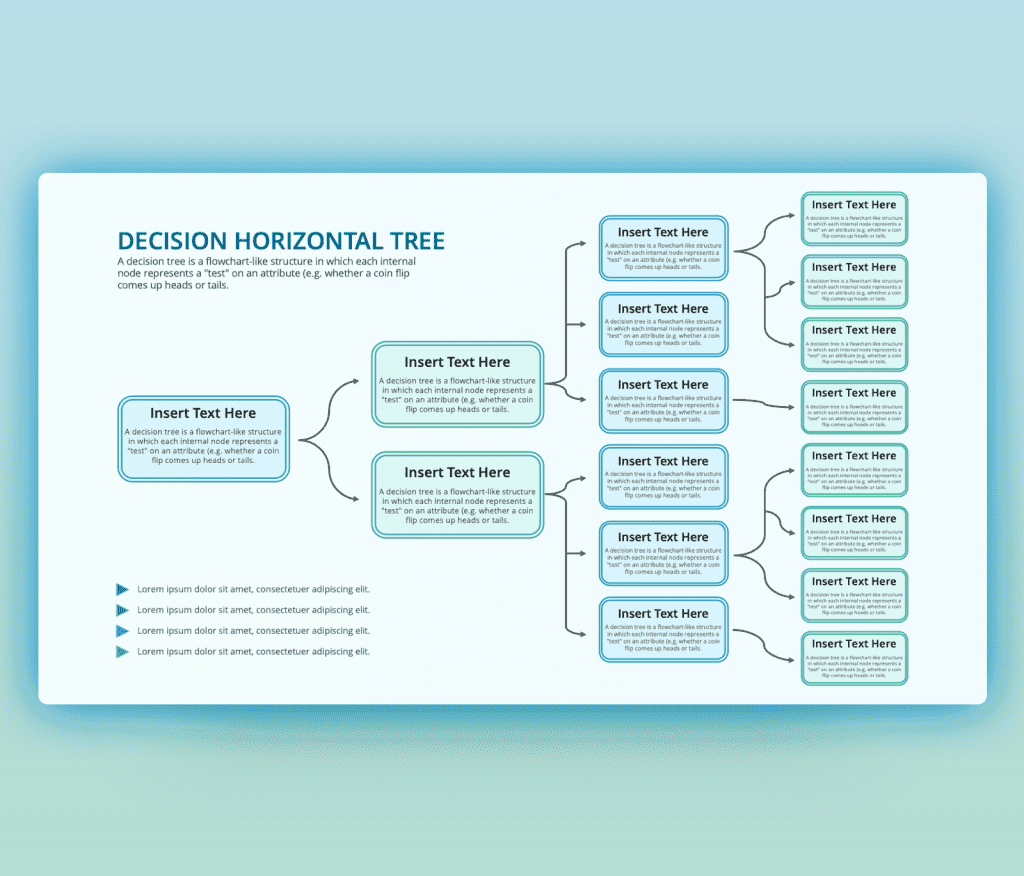 Horizontal Decision Tree for PowerPoint created to be used in different uses. This decision tree problem and solutions ppt focus on the process of making and taking a decision. Simply put together we can say that the decision tree analysis template is a representation of the stages that form decision-making calls.
It is based on starting with a point and then expanding into branches, that you choose according to each preference and step you are taking. As shown in this decision tree analysis ppt design horizontally spreading into the smaller boxes represent options in branches form. As Choosing the visuals is the key point to present on an analysis in the most effective way, we introduce some of our PowerPoint tree diagrams.
Such a design for Tree flow chart ppt Template can be added and edited in multiple forms and different documentaries. The user of this slide can add it to a presentation presented to your department team to discuss a major decision you need to make. It is also a tool used to report on a project. Maybe some Business presentation for developing sections and enhancing a plan that will be executed in the future.
This Free Horizontal Decision Tree for PowerPoint is fully able to be edited, you can edit all the elements in this ppt slide. Choosing a new color theme from the color palettes available. All icons are vector to edit their colors, sizes, and placements. You can choose another font to fit your style and brand guidelines. You can use PowerPoint decision flowchart multiple times, you just will customize it to fit your decision-making process.
With one click, download Premast free decision tree PowerPoint template now.
Want Custom Designs?
Get your presentation custom designed by us, starting at just $5 per slide, based on this template or any other style needed
Request for $5