Free BCG Matrix Analysis Template for PowerPoint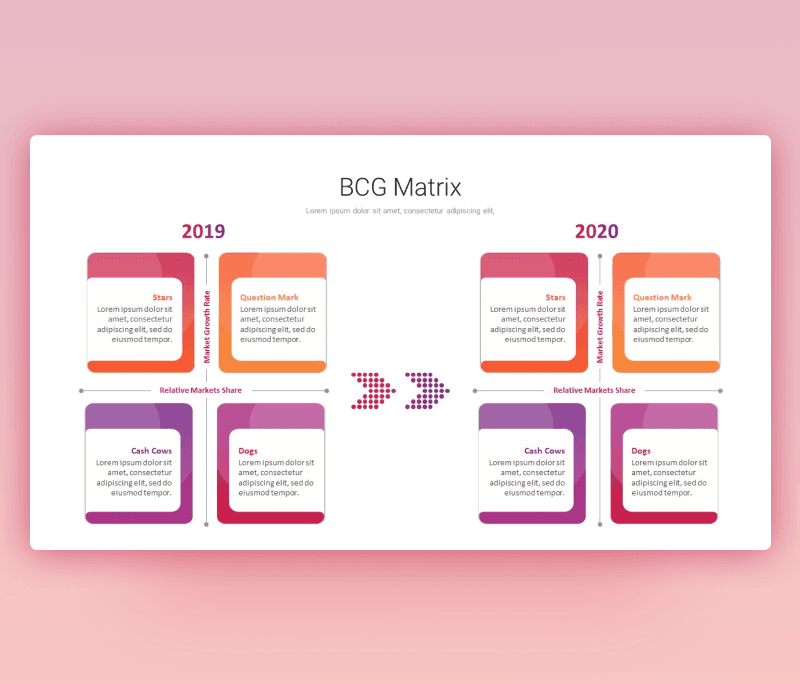 Free BCG Matrix Analysis Template for PowerPoint — If you happen to be an active member of the business sector – whether still a student, or actually engaged in the corporate life – then you must have been in the position when you were assigned to identify the current state of your product/project and decide what your next move should be.
Well, news flash; BCG Matrix is exactly what you need to fulfil the task.
Boston Consulting Group Matrix (BCG) is a growth market matrix presented by Bruce Henderson in the seventies in order to lend a hand for the business owners to assess, evaluate and analyze their SBUs to have the right vision for what yet to follow and what steps to take in order to achieve the aspired progress.
Now it is YOUR turn to do the same!
Are you looking to maximize your corporate's performance? Do you think there is a better plan for your resources' distribution? Are you seeking more appealing business opportunities? Then, you have come to the RIGHT place.
We at PREMAST offer you quick access to our cool 100% Free BCG Matrix Analysis Template for PowerPoint. Our free BCG ppt template is super easy to use, well-organized and a major TIME SAVER as it spares you the sweats of the design details if you aren't into the whole "what colors' match?" scenario.
Also, it's customizable, in case you have the designer spirit and might think that there is a better eye-friendly color that should contribute to delivering the purpose of the presentation and conveying the correct message.
In both cases, our BCG presentation template got it all covered. It will help you captivate your audience's attention, and have them actively interact with the presented attractive visuals.
Furthermore, the matrix's four quadrants are already planned out and scaled in advance, whereby you can choose the unit of your business, define the market, calculate the relative market share, find out the market growth rate, and finally draw circles on your matrix in the LEAST time possible.
That way, you will be guaranteed an effective planning and evaluation tool for your business plan portfolio and its potentials, in addition to the production of further investment strategies that should maximize your profit.
Our Free BCG Matrix Analysis Template for PowerPoint is your shortcut to recognize your market share key strength points and how to use them to create your own competitive advantage, moreover, it helps you explore your options and come out with the greatest outputs that will put your business on top of the competition.
check more talented BCG templates
Want Custom Designs?
Get your presentation custom designed by us, starting at just $5 per slide, based on this template or any other style needed
Request for $5