Editable Solar System PowerPoint Template PPT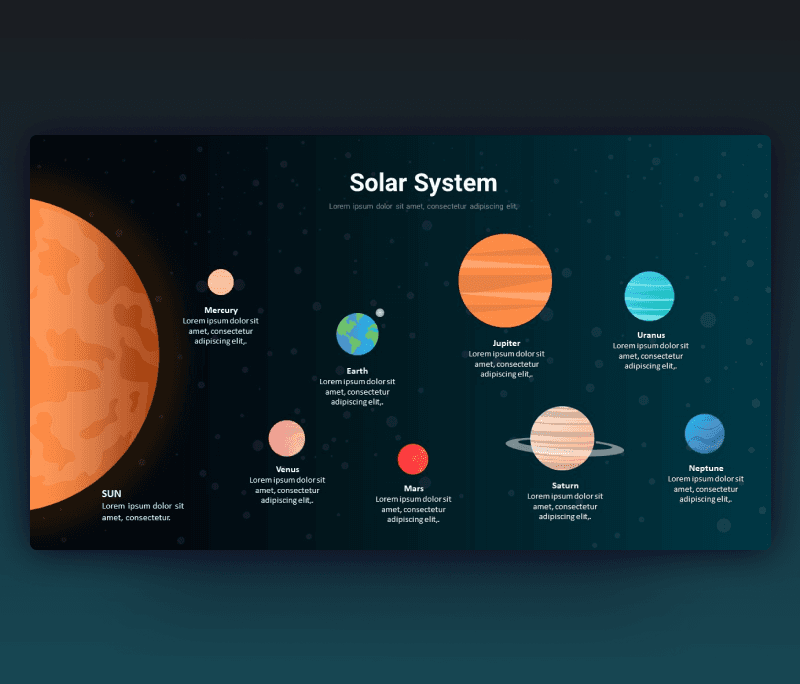 The editable solar system PowerPoint template is creative and versatile. Having a glance for the out space been a dream for a lot of people, but all we can do is study it and understand the magic of it until it is applicable for us to space travel. This solar system ppt can be used in different situations. At school as a physics slides template, for different sciences in general. If you are studying the solar system and how our galaxy works or maybe you are presenting some new ideas that need you to tell how the big star "Sun" works. Actually it is a huge range of options to apply such a comprehensive design.
As seen in our editable solar system PowerPoint template slide, it is in dark theme colors that contain all of our solar system elements starting with the sun at the right and the eight planets (Mercury- Earth – Jupiter – Uranus – Venus – Mars – Saturn – Neptun) with life icons representing each planet.
You can totally customize this universe PowerPoint template to fit your need for use and the style you prefer. Editing colors, sizes, and font. Adjusting icons and orders of the planet to have the perfect stars and planets visual tools to help you present that exact topic.
Want Custom Designs?
Get your presentation custom designed by us, starting at just $5 per slide, based on this template or any other style needed
Request for $5