Creative Space Science PPT Template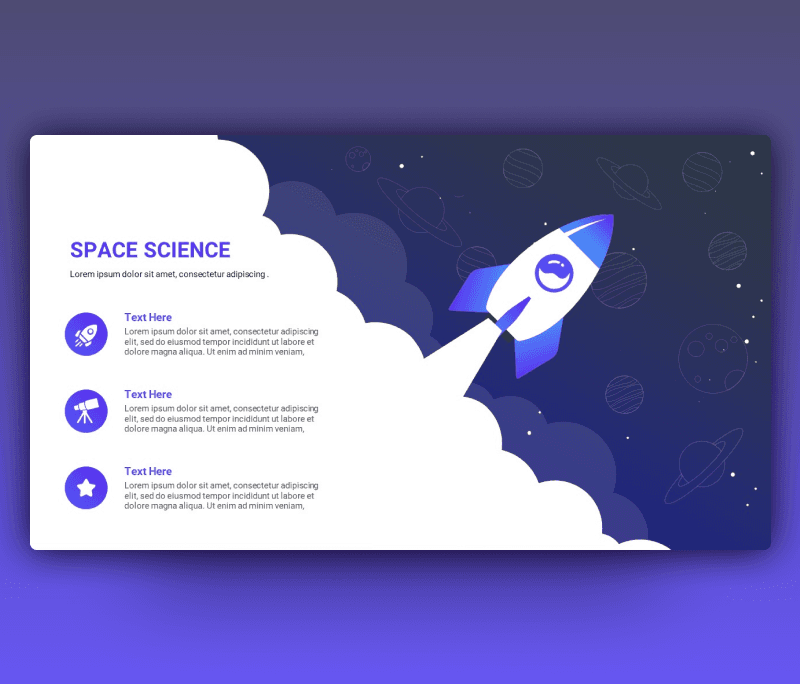 Creative Space Science PPT Template modern and professional. This Space Science PowerPoint template is useful for educational purposes. Such an outstanding design would make a great statement for introduction to earth and space science. Using the blue color as the main color is to make it related to space feel as much as possible. The design includes a launching rocket, several planets in the background, clouds, smoke, and instrumental tools make it perfect for space concept. This PowerPoint slide can be used for a science class or any related presentation that needs an astronaut opening.
This Creative Space Science PPT Template is fully customized and flexible to edit it. As shown this design give you space to write a couple of statements and introduction to the topic, you can pick another font if needed to fit your style. If you are trying to be different and you need to change the blue color theme it is also available to choose from the color palette.
All icons are vector and can be totally edited and adjusted color, size, and placement all are editable. Adding this Space Science PowerPoint template to a presentation or some kind of documentation will take the content to a more fun and creative level. Visual tools help us give a valuable meaning to the content and help to deliver the message needed faster and more accurate. Choose your visual wisely, download this Space Science PowerPoint template for free, and check out other outstanding Free slides from here.
Want Custom Designs?
Get your presentation custom designed by us, starting at just $5 per slide, based on this template or any other style needed
Request for $5