Yes/No Decision Tree Diagram Template for PowerPoint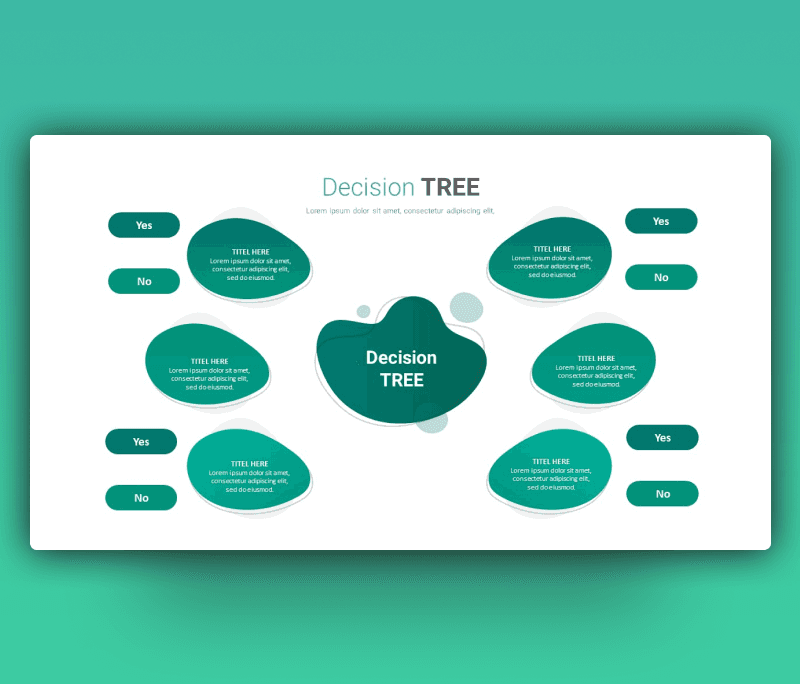 Yes/No Decision Tree Diagram Template for PowerPoint added to our slide collection. A modern and unique design for those who seek outstanding templates. This decision tree diagram template PowerPoint is a tool to make a decision based on the options. You can use it to make an important decision with your team, as we make decisions every day Some of them are small decisions and others are really with high risks, like decisions affecting your business. One of the best approaches to make a decision is to visualize it and analyze different scenarios from multiple options. For that exact reason, you need to use the Decision Trees diagram.
This Yes/No decision tree template for PowerPoint is a modern design in a green color theme. The main focus point is in the middle with six smaller figures outside it representing the options and basics of your decision. Each option has Yes/No boxes next to it. Such a design can be added to a business PowerPoint presentation and a demonstrative design.
Our decision making tree template PowerPoint is fully customized. All elements are editable. Starting with changing the color theme to fit your preferences. You can pick another font too. Insert your text and you are ready to go. Download it now and make the decision needed for your next successful step.
Want Custom Designs?
Get your presentation custom designed by us, starting at just $5 per slide, based on this template or any other style needed
Request for $5