Decision Tree PowerPoint Template | Free PPT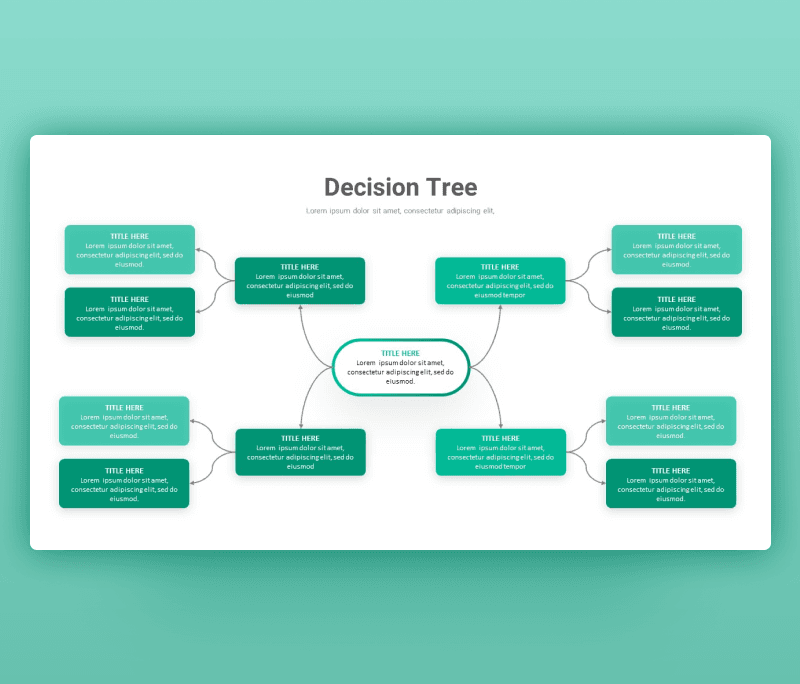 Tree diagram template ready for you to download now. If you are looking for a design that makes it easy for you to make a decision. We introduce the PowerPoint decision tree diagram slide.
If you are trying to break down a complex decision and see through a critical state of mind, you need to try out using a decision tree maker. A decision tree ppt usually starts with a node, which branches into possible options and outcomes. The outcomes lead to other nodes, which branches once again into other possibilities. That's why it is called a tree diagram it keeps on branching.
As we see in this tree diagram template a classical greenish look with a box in the center representing the main node expanding to possible solutions. The really great thing about this decision tree in PowerPoint SmartArt slide is that it is fully editable, you can totally adjust the pieces of it and have your own version of the slide. Giving you the chance to use it multiple times. You can change the color theme to fit your preferences. Pick a new font. and edit each box and arrow to look the way you are looking for.
Want Custom Designs?
Get your presentation custom designed by us, starting at just $5 per slide, based on this template or any other style needed
Request for $5