BCG - Boston Consulting Group Matrix Slide Template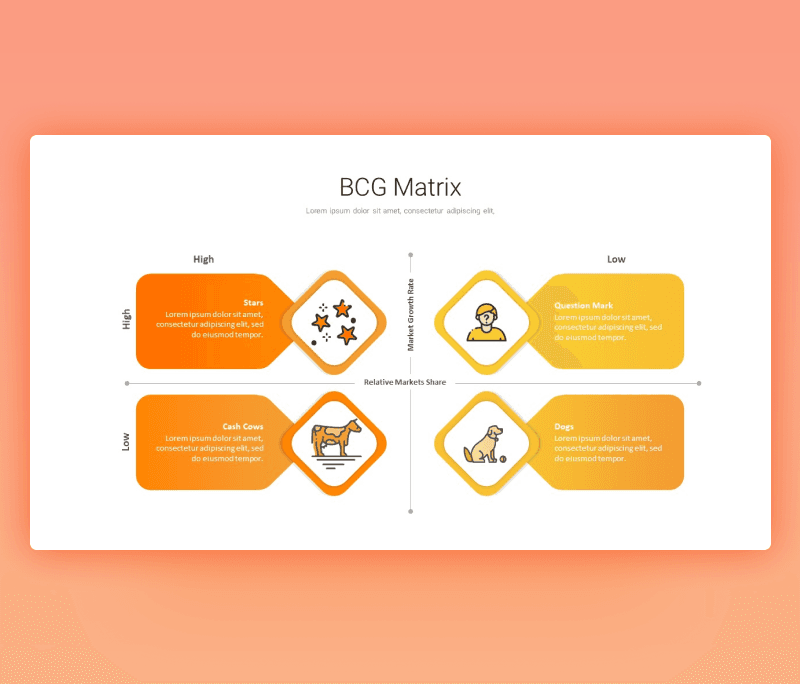 BCG Matrix Template have you ever heard of it? and if you did, are you looking for a unique template to download? here it is Boston consulting group matrix PowerPoint template ready to download for you.
Boston Consulting group's product portfolio matrix (BCG matrix) was designed to contribute and help with long term strategic planning. Part of its use is to guide business owners to consider different growth areas and opportunities.
Businesses can use the Boston Consulting Group Matrix Slide Template to review its portfolio of products to have a clear vision and decide where to invest, to develop or stop developing products. Actually looking around you will find templates here and there. But we at Premast decided to create a modern and professional ppt template that can be used in different situations and uses.
Before getting into how particularity our ppt products can help you achieve ultimate results, let's explain each part of the BCG Matrix you are seeing above:
Stars: Products which are in high growth markets with high market share.
Question marks or Problem Child: Products which in high growth markets with low market share.
Cash cows: Products which are in low growth markets with a high market share
Dogs: These are products which are with low growth or market share.
You simply do the math and place each of your products in the right category and so make your plan considering all the situations of the different products your business may provide.
Now to the part of how our specific Boston Consulting Group Matrix Slide PowerPoint Template will help you. As known now the slide above is in PowerPoint format which means you have the ability to fully customize it to fit your needs and style. You can play around with the slide and make it your own.
Adding this Slide template to documentation for a report or use it to present to your team, it needs to be in your brand guideline. Pick a different color theme from our palette and choose a new font. You can edit icons too. Download a free Boston Consulting Group Matrix Slide PowerPoint Template now.
also, check more modern  BCG Matrix Templates
Want Custom Designs?
Get your presentation custom designed by us, starting at just $5 per slide, based on this template or any other style needed
Request for $5