New Ideas and Insights PowerPoint Template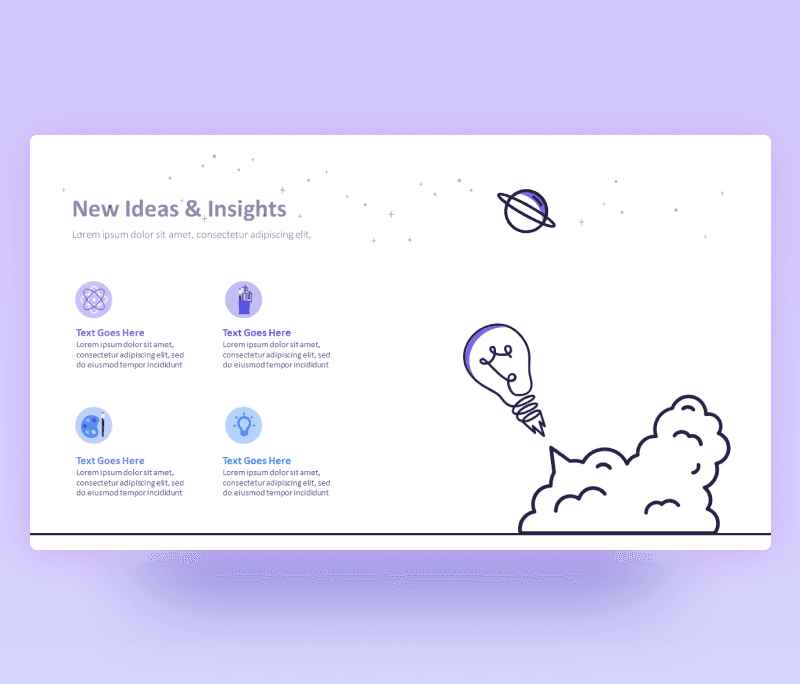 New Ideas and Insights PowerPoint Template to add to our outstanding designs. This new business idea ppt is designed to give you visual options to your content that aims to inspire. As we are choosing the needed visuals to create an effect, this effect control how viewers seek you and how they receive it and if their brains accept and understand the content. Another new business slide to be considered in a very modern and cool new PowerPoint designs.
This New ideas and Insights PowerPoint Template is a minimalistic design that will fit your taste. starting with the flying lamp on the right side of the slide. At the corner, some launching smoke accompanied by the flying lamp representing the ideas and inspirations. With a flying planet. On the left side are four icons representing four-point along with their description below. All this space is to help you share ideas and inspirations with your team or management.
Our very cool new innovative business ideas ppt slides are totally editable and you can customize it to have your own version of them. Editing color theme, text, and fonts. All elements can be adjusted to fit your need and style and the usage of it. Download this new business idea presentation ppt now and check out our other inspiring slides.
Want Custom Designs?
Get your presentation custom designed by us, starting at just $5 per slide, based on this template or any other style needed
Request for $5