Free Weekly Project Timeline PowerPoint Template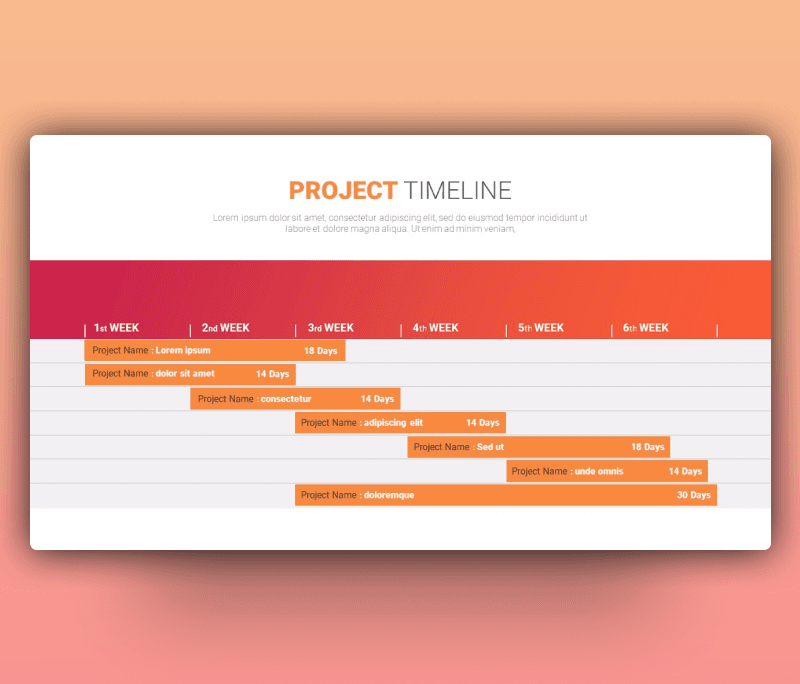 Free Weekly Project Timeline PowerPoint Template ready for you. A PowerPoint timeline slide designed in a modern and professional feel. A weekly project plan ppt slide contains a simple to understand and use weekly table. As shown each row can contain a project name and deadline. Actually you can control what each raw has.
This template is divided into two sections the first section is the title and a statement content and then the other section is the table of the project timeline.
This slide template can be used in multiple departments and in different situations You can use it to present an upcoming project timeline and deadlines or to reflect on an existing timeline also you can use it for reporting. You can also add this ppt slide to your PowerPoint presentation to add a unique feel to it.
As this Free Weekly Project Timeline Template in PowerPoint format you can fully customize this slide and edit it to fit your needs and style. For example, you can play around with table to make it work for your project. All the icons, the square of the table are editable. You can change the size and color and here you are with a customized ppt slide. Change the color theme by choosing from our color palette. Download it now and have an amazing PowerPoint slide to rock your presentation.
also, you can check more timeline templates from here
Want Custom Designs?
Get your presentation custom designed by us, starting at just $5 per slide, based on this template or any other style needed
Request for $5