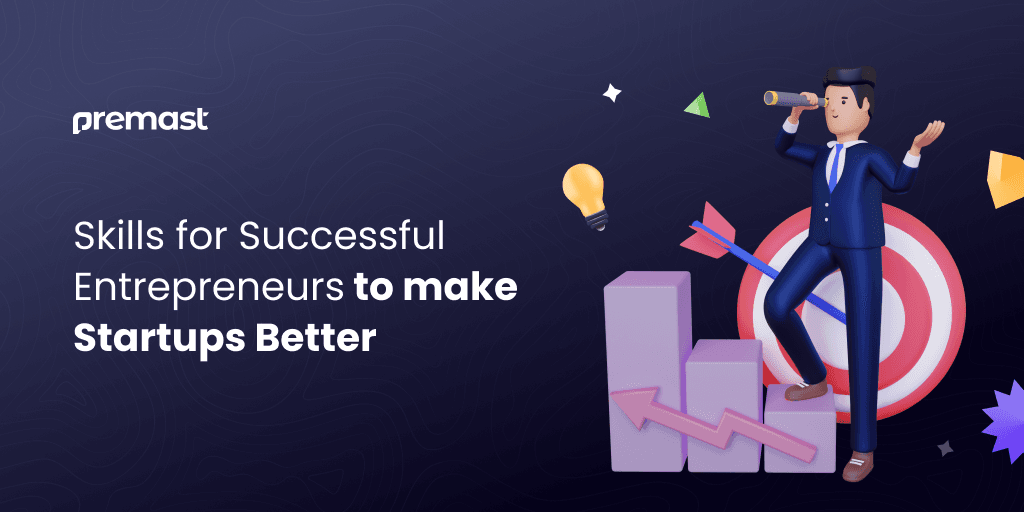 Skills for Successful Entrepreneurs to make Startups Better
Reem Kamal
Creating a startup takes a lot of effort, determination, and careful planning. Dedication gives your business a strong sense of direction. According to Entrepreneur Magazine, having a clear purpose is crucial for business success. Companies that have a clear purpose tend to do better.
Entrepreneurs with these characteristics are more prone to initiate new business endeavors successfully. However, establishing your startup marks just the outset, as you must also prioritize the efficient operation of the venture in order to attain your growth objectives sooner rather than later.
Success depends on having the right skills because you can't just hope for growth. Here are the important skills that entrepreneurs need to make their startups work better.
Financial management
Financial limitations frequently impede the expansion of fledgling businesses operating with limited funds. Whether you commence with a substantial initial investment or not, apportioning funds can pose challenges due to the myriad of issues new enterprises must address. According to  Zippia, approximately 90% of startup endeavors ultimately meet with failure, with 10% of them faltering within their inaugural year. On average, a small business necessitates around $10,000 in initial capital; nevertheless, a mere 0.05% of startups manage to secure venture capital. A significant portion of these ventures, specifically 29%, meet their demise due to a depletion of financial resources.
You can count on effective money management abilities to accomplish more with limited resources. Ideally, it's advisable to outline your top priorities and address the fundamental necessities first.
Exploring supplementary income sources and establishing an emergency fund constitute other facets of sound financial management.
Adaptability
Many startups fail, and this can really stress out the people who started them. According to Fortune magazine, 13 percent of startups fail because the founders lose focus, 9 percent fail because they lose their passion, and 8 percent fail because the founders get burnt out. So, in total, 30 percent of startups fail because of how their founders are feeling emotionally.
Unfortunately, lots of new businesses fail because their leaders quit too early when things get tough. But being tough and not giving up can save your business, no matter how hard it gets.
When you start, you'll face challenges and find it tough to balance work and life. But if you're strong and believe in yourself, you can overcome these obstacles.
If you stay committed to making your business better, you'll see good results in the end.
Creativity
Successful entrepreneurs stand out because they have a special skill: they find clever ways to solve problems and make their businesses better. Enhancing your creative abilities not only boosts innovation but also nurtures fresh concepts to improve and advance your product and service offerings.
Productive and impactful communication
Entrepreneurs need to adopt effective communication as a vital skill to elevate their business functions. This skill allows you to convey precise expectations to your team and enhance connections with clients and partners. According to Haiilo, successful business communication is a fundamental factor for the prosperity and expansion of any organization. Unlike casual daily conversations, business communication consistently revolves around specific objectives. Nevertheless, statistics reveal that 60% of professionals handling internal communications fail to assess its impact.
Consider both spoken and written communication since excelling in both is crucial in today's remote work environment.
Furthermore, honing active listening is essential for comprehending expectations and aligning them as an employer and business proprietor.
Leadership
Many entrepreneurs possess innate leadership qualities, while others have the potential to develop this characteristic over time. Effective leadership plays a crucial role in overseeing personnel and steering your startup toward growth. It involves not only guiding your team but also inspiring them to perform at their best and actively contribute to the advancement of your business. According to Go Skills, leading companies highly value the development of leadership skills. In Deloitte's Global Human Capital Trends survey, a remarkable 80% of respondents regarded leadership as a top priority for their organizations, even though fewer than half believed they possessed the necessary qualities to fulfill their leadership responsibilities.
Being open to new ideas and suggestions can help you become a better leader because it might lead to finding new ways to improve your startup. Also, learning how to delegate tasks effectively can help you get more done and make fewer mistakes. Developing and refining these essential skills for entrepreneurs can steer your business in the right direction. Assess your natural abilities to recognize your innate qualities, and concurrently, focus on acquiring the ones you may lack.
Spread the word
Start for free.
Design, manage and share your Presentation and branded content