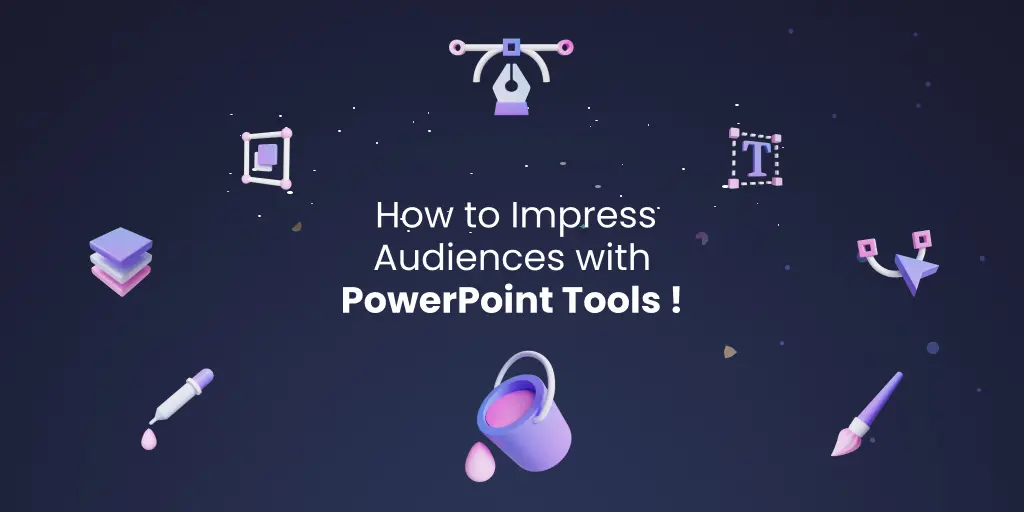 How to Impress Audiences with PowerPoint Tools !
Reem Kamal
How to Impress Audiences with PowerPoint Tools? The underestimation of PowerPoint tools by most individuals is not a recent phenomenon. Many perceive this software as a Microsoft product featuring uninteresting and unimpressive slides. The actual capabilities of PowerPoint often elude them, leading them to opt for alternative tools. Predictably, these skeptics lack a comprehensive understanding of the tool's functionalities.
If you want to share important information with your audiences, or employees, making a presentation can be helpful. Presentations usually have slides and pictures that go along with what you're saying. You can use them to talk about a new product, show your team how to do something or introduce a new idea in your company.
What we need to do is learn more about PowerPoint, find out all the cool things it can do, and use it for different purposes. This will help make your PowerPoint presentations impressive. Here are four important things to know about PowerPoint that can change how you feel about it.
Creating Content For Social Media Platforms.
On Twitter, Instagram, TikTok, and Facebook, you'll see that many businesses are using pictures and videos on these platforms to create their brand, share information, give tips, and let their followers know about new deals. PowerPoint is a great tool for creating a creative design that looks like a carousel, similar to what Premast does.
If we're looking to enhance our brand, engage in advertising, or share useful tips, PowerPoint emerges as a valuable asset for crafting social media visuals without the need for graphic design expertise. Additionally, there's no necessity to acquire new tools if you opt not to do so.
Making short videos for YouTube content.
One of the main reasons for producing videos is to share them on platforms like YouTube and other social media. In instances where we lack video footage, combining images and audio to craft stories can yield impressive video content. This leads us to consider whether it's necessary to enlist a professional for video editing.
When we're talking about video graphics, you can use PowerPoint to easily create visuals for your videos. It has lots of fonts, shapes, and tools that are easy to use. The templates it offers also work well with most video editing software. Plus, you can save slides as images if needed.
We can learn how to use the tools on our own, without needing a pro. If you have a MAC, Keynote is a good option too. But overall, PowerPoint is the easiest way for us to start getting better at video editing.
Create a PDF and use it for the LinkedIn carousel.
Have you tested out LinkedIn's document-sharing tool to make carousel posts and boost your engagement? If not, you really should give it a go!
Allow me to inform you that LinkedIn carousel posts are truly impressive. Prominent LinkedIn influencers such as Gary Vaynerchuk utilize carousel posts to drive interaction, enhance brand visibility, and foster a sense of community.
Using PDFs for a LinkedIn carousel can enhance the professionalism and engagement of your content, but it's important to be mindful of accessibility, loading times, and interactivity limitations. Tailor your approach to your specific goals and target audience to achieve the desired effect.
Add the website to the slides to make the content interactive.
Have you ever showcased an active website using a PowerPoint presentation? Many individuals are not fully aware that they can integrate a live webpage directly into a PowerPoint slide, allowing them to display the precise content they intend to present.
Many times, we want to share information from the internet with our audience. One way is to take a picture of the webpage we're talking about, but this might show old information when we present it later.
An improved solution involves presenting information interactively from the internet within our presentation. While PowerPoint cannot directly incorporate a live web page, this can be effortlessly accomplished using the LiveWeb add-in.
Combining all elements.
Regarding visuals, PowerPoint offers us a wide range of possibilities. This software enables us to incorporate audio, video, and creative skills to impress our audience. From a thoughtful perspective, PowerPoint might indeed share some features with other tools.
PowerPoint offers numerous clever techniques, but the valuable tricks highlighted in this article will greatly enhance your presentation design skills.
A good employee needs to know how to follow company communication rules, write translations, and create reports about their work. People who deal with customers also need to communicate well.
Being good at writing involves practicing different types of letters and reports and understanding how they're different. That's why employers care a lot about how well their future employees can write.
The concept of computer literacy has broadened. Previously, merely being able to turn on a computer and utilize Microsoft Word or Excel was sufficient. However, this has now been complemented by the necessity to handle tasks like email proficiently.
Today, it's not only essential to grasp setting up an email account, opening, and perusing emails, but also mastering tasks like configuring templates, creating signatures, managing forwarding, and other vital features.
As electronic planners gain more popularity, there is a growing expectation for individuals to possess adeptness in using them.
Corporate communication has transitioned from instant messengers and team scheduling tools to software for generating and distributing tasks.
Although the specifics of these tools can differ across companies, acquiring a fundamental understanding of their operational principles requires an investment of time. Furthermore, proficiency in navigating the World Wide Web and creating backups remains crucial.
Dealing with a lot of information:
In every professional work environment, a considerable volume of data, articles, analytics, and books holds potential value. Moreover, numerous professions entail the task of managing and interpreting substantial datasets.
Even if this isn't your primary duty, the ability to swiftly and effectively manage this information is essential to fulfilling other daily obligations.
To elaborate further, mastering this skill encompasses tasks such as digesting extensive textual and informational content, sieving out pertinent details based on context, generating valuable summaries, organizing data, and more.
Ability to change and adjust fast:
Before, just describing your job and doing it for a long time was sufficient. But now, things have changed. The way things work can quickly shift, even in one job or profession.
To be good at what you do, you need to quickly respond to new information, adjust to different situations, find solutions that work for everyone, and keep learning and getting better on your own.
If you don't do these things, you'll be replaced fast.
Familiarity with languages not native to one's own: 
Knowing English and another language well has become really important. This is because the world market for things we buy and services we use is getting bigger. More and more companies and groups are working with foreign companies, investors, partners, or clients. To talk and understand each other in business, it's necessary to know the same languages.
Even though companies create plans to motivate their employees, it's not guaranteed that people will feel inspired every day. This is why it's important for employees to be open to learning and growing, which employers should notice and reward.
Having a positive attitude helps us motivate ourselves. We do better in things we really care about.
Companies reward their employees in different ways, but it can be irregular or surprising. So, don't hesitate to tell your manager about what you've achieved.
Thinking and making things in new ways:
Nowadays, many industries have a lot of competition, and it might seem like everything new has already been made. But that's not true. To find a good job and build a successful career, you have to show something special.
Being creative and thinking in new and different ways is important in any job, whether you're an artist, a lawyer, or someone who sells things for the home. If you can come up with unique ideas that get people excited, you'll have a better chance of doing well.
Abilities in guiding and directing others:
Leadership skills go beyond simply desiring to be the head of a department and aggressively convincing others to support you. They involve the capability to assert and validate your viewpoints, the aptitude to take on responsibility, and showcase your trustworthiness. Furthermore, they encompass the skill to establish ambitious personal targets and actively strive to reach them.
Presentation: making and sharing the correct information with the audience: 
In today's world, where our daily tasks are often extensive and the knowledge we must absorb is vast, the skill of efficiently and effectively crafting presentations and conveying information to others has gained unprecedented significance. Moreover, the concept of 'presentation' has expanded to encompass various scenarios, such as showcasing oneself as a qualified job applicant, delivering reports among peers, or introducing ideas to superiors. Balancing creativity and informative delivery in these situations is a valuable yet challenging accomplishment.
In the present time, including attributes such as accountability, timeliness, ability to handle pressure, collaborative skills, and more in your resume is seen as predictable and unessential. However, their inclusion isn't redundant.
You can demonstrate these qualities in action, for instance, by arriving promptly for an interview and adequately ready for it. This can be showcased through your well-groomed appearance and familiarity with the company's endeavors, among other things.
At the end, Every individual should have a comprehensive skill set, although becoming a master in every skill mentioned is unattainable. It's important to recognize your strengths and limitations to become proficient. Priority should be given to fundamental critical thinking, succeeded by skills such as creativity and interpersonal communication, as they hold value across all professional environments.
Spread the word
Start for free.
Design, manage and share your Presentation and branded content