Monthly Project Budget PPT Slide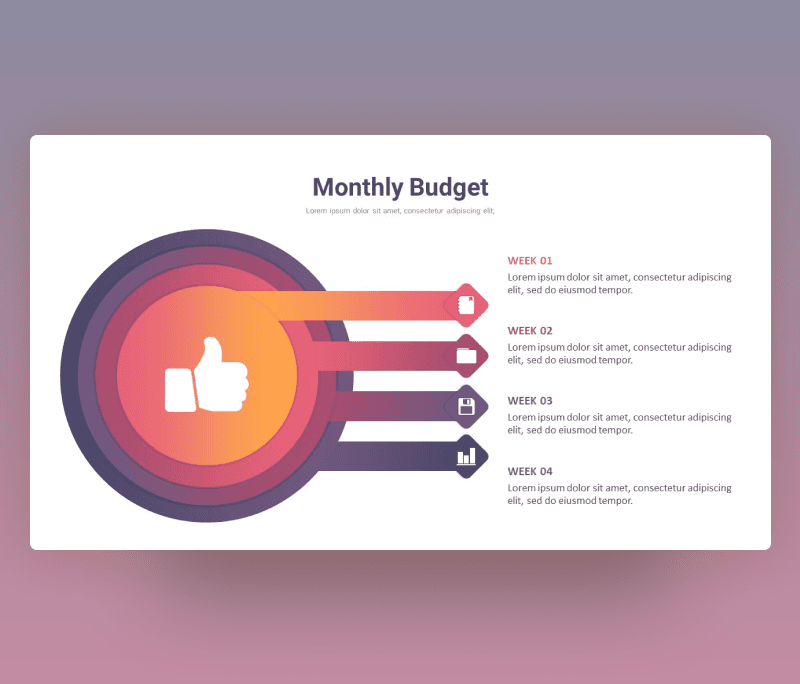 Monthly Project Budget PPT Slide in a whole new concept to refresh the minds and renew the view of the eyes. A design that is modern, creative, and colorful is the key to vivid content that reaches the brain immediately. Creating such a project cost management ppt is initially to provide out of the box and new options for the user. A design that can be included in reports, Budget presentations or any documents that include the budget topic.
As seen a slide that contains two main sections, at the left side of the ppt slide you will find a circular shape with arrows coming outside it and pointing to the right side of the ppt, point to the second section at the right which is the text that needed to be inserted. This slide may be called Monthly Project Budget PPT Slide but it can be used on a daily, weekly or annual basis. It can also be used for other topics just change the title and play around with icons.
You can totally change how it looks, as this is a PowerPoint format design, itis east to edit elements around and have a whole new outlook. Change colors, edit icons, pick another font if needed, and have your own version of our project budget ppt.
Want Custom Designs?
Get your presentation custom designed by us, starting at just $5 per slide, based on this template or any other style needed
Request for $5