dashi SaaS Dashboard Report Presentation Template PPT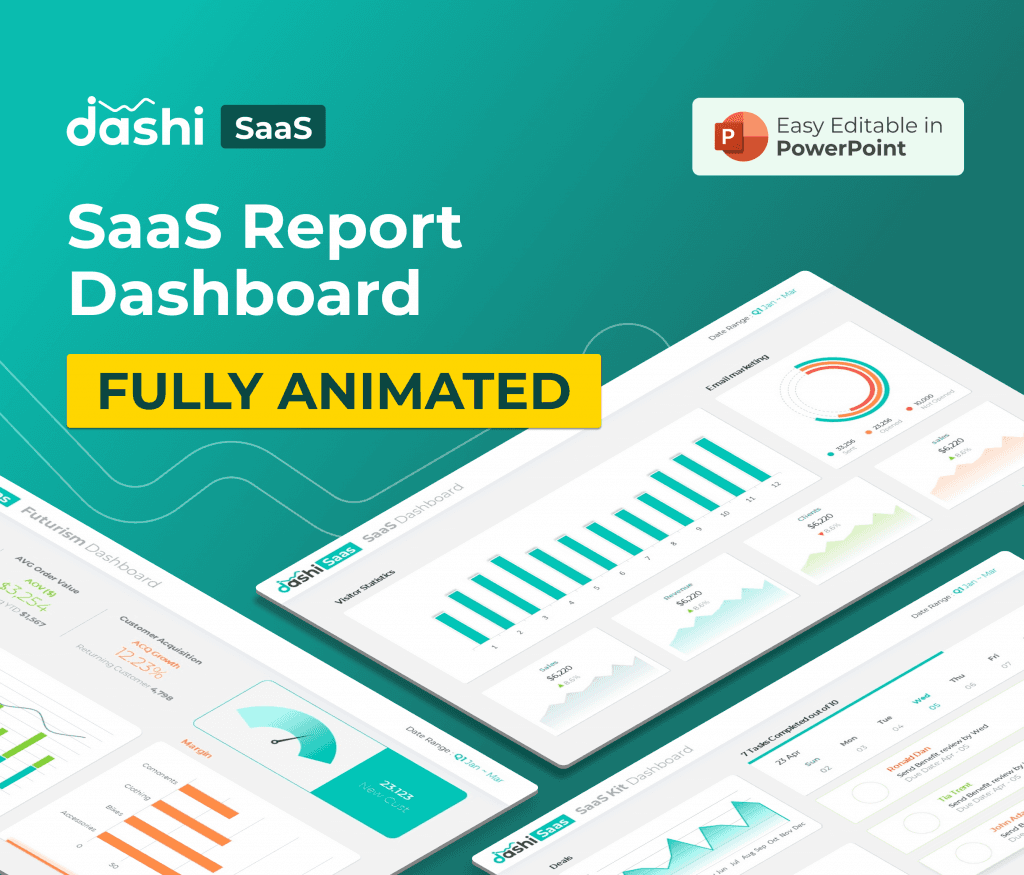 SaaS Dashboard Report Presentation Template PPT is ready for those who like to work perfectly with the data. Adding to our Dashi Bundle, SaaS dashboards, all design to serve the field of this cloud-based service. We introduce high-quality designs in PowerPoint Format that work on SaaS data. Detailed dashboards outlay to track, analyze and report SaaS to others. Metrics make or break SaaS technology as without knowing how you are developing and applying you won't know how to grow. All included KPIs and metrics related to the SaaS. Using such a SaaS Dashboard PowerPoint design empowers you to visualize your data and make the numeric data understandable.
This SaaS Dashboard Report Presentation Template PPT is a comprehensive tool that contains different and needed dashboards. You will find all types of charts, graphs, maps, tables, icons, and more to help you address and present your metrics in a modern and practical possible.
There are a lot of categories included
SaaS Customer Churn Dashboard
User Engagement Dashboard
Futurism Dashboard
SaaS Dashboard
Dashi SaaS Dashboard PowerPoint design is fully customized to help you meet the standards you look for and work with your brand guideline. You can edit all elements starting with color themes, choosing light or dark mode, pick a new font, adjust graphics and play around with the outlays. Create your own version of a fully editable SaaS PowerPoint template.
Download Dashi SaaS and check our Dashi bundle to get the All-In-One Dashboard Presentation Package.
Main Features
14 unique slide.
36 character position.
30 business concept with amazing flat vector.
16:9 aspect ratio (HD screen).
Based on the master layout.
30 premade color
light and dark background
all elements are fully editable.
easy drag and drop image.
free fonts file used.
fast and free support.
Want Custom Designs?
Get your presentation custom designed by us, starting at just $5 per slide, based on this template or any other style needed
Request for $5