Halloween PowePoint Template to edit and play with so you can celebrate your day. As known Halloween is the highlight of the fall season. We all wait to let our creepy and fun personalities out. Every year on 31st October, streets get crazy and it's hard to recognize people around. Actually, some of us are Halloween enthusiastic and they start the celebration in early October, start preparing creepy music lists, spooky home decoration, and extra outfits.
Here we take it to another place, knowing that a lot of you are looking for cool designs to use both in celebration and work. The "Trick or Treat, Smell My Feet, Give Me Something Good to Eat!" vibes are on and so your ability to be creative in the most off guards ways. Introducing a bunch of creepy, scary, and spooky PowerPoint templates from all over the net to inspire you to get your own ghost out.
Before getting into the templates, let us remember Four reasons why it is great to use PowerPoint templates:
PowerPoint makes it easy to customize your template easily and smoothly.
Through PowerPoint, you can edit each and every element to fit your needs.
There are great available Plugins that you can totally use to design, for example, Premast Plus, provides you with great& professional options of visuals
You can save the file in many different formats that help you use and share your design, For example, you can create Social Media posts through using it, check it out here
Now let's head to 10 Halloween PowerPoint Templates:
---
Best 10 Halloween PowerPoint Templates
This Scary Night Halloween PowerPoint Presentation Template is a great versatile tool to create. spooky designs for the Halloween season. It includes standing out and original illustrations that been crafted to fit the season style. You can use it at some creepy party or even present your business. When you use this PowerPoint ppt you will find different layouts to inspire you. All needed icons, graphics, and visual tools are in there.
Happy Halloween, it's time for the trick or treats! here is a presentation PowerPoint template to celebrate the scary holiday. we believe in the fun and that's why we introduce a thoughtfully designed template that your business can be disguised in. where pumpkins, bats, skulls, and more creepy stuff were added! ???? Different Infographics and backgrounds are included. Adding to that graphics. Celebrate with our free template and get both the trick to succeed and the treat of your success.
An outstanding Halloween theme template contains different layout and super creepy elements that will inspire you to create designs that are horror related layouts. The great thing about this design is that it is unique with charts, illustrations, and cool text choices
This Halloween day presentation template is designed for Halloween Day and it can be used in any cultural events related to that. Images included in the template perfectly presents Halloween spirit, so you be inspired to make your own professional presentation using these elements. If you are involved in the Events industry for example or maybe in businesses and planning, These Various types of charts, graphs, diagrams and etc will help you for sure.
Halloween Party Powerpoint Presentation Template Fully Animated to make everybody goosebump for celebrating the Halloween holiday. This template can be totally used for festival promotions and or any related event. Applying amazing animations, editable vector elements, ready fonts, and Halloween characters can make this presentation template easy to use. Additionally, 10 scheme color options and image placeholders are also included. Let's get your Halloween Party right now!
Cromagnon is a Modern, Creative, Unique presentation template that can be used for Halloween commercial enterprise or personal use, creative industry, business, and many more. If you're looking for a different design to celebrate the freaky occasion, neon lights, and standing outlays with a professional presentation get this presentation now!

The Critter template is a professional template for  PowerPoint presentations. This fun PPT template includes 32 masters, which allows you to choose the best layout for your information. The template can be opened and edited easily. All elements can be edited, recolored, reshaped, and reused to fit your needs and style.
Get your costume and the candy ready! Halloween is coming and you can celebrate it with this spooky PPT template. This Trick and treat design has a terrific illustration in orange color with a trick or treat scenes. Besides, the evil carved pumpkins, dead trees, and haunted houses give it the creepy and mysterious touch that can't be missing on Halloween.
It's that time of year, it's Halloween! Here a Slidesgo Template, they have created this new free presentation Halloween-themed template, In which the design is focused on funny graphic elements, which makes it perfect for your audience to have a nice time paying attention to what you want to say.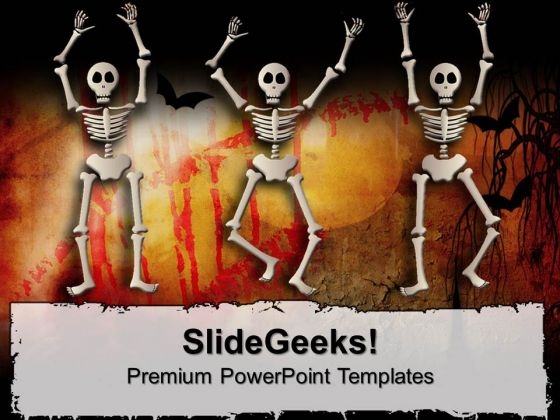 Halloween Festival Americana PowerPoint Templates for Microsoft Powerpoint Templates and Background with Halloween festival" It changes with our Halloween Festival Americana PowerPoint Templates And PowerPoint Themes 0712. Download without worries, spooky enough to creep you and your audience out.
---
All of the above designs are totally related to the Halloween theme, with all the creepy figures, spooky themes, and scary colors palette to make it complete. Have a nice time creating fun and outstanding designs.
Don't forget to check out Premast templates for more PowerPoint templates